Skip to Content
Motorized Window Coverings
Motorized Window Coverings in Southwest FL
Certified Window Fashions sells smart blinds in Southwest FL. Our motorized window coverings elevate your home's style and increase energy efficiency while providing comfort at the convenience of your fingertips. Control your privacy, lighting, and insulation from your phone, remote control, or wall switch with our efficient and stylish blinds. Smart blinds are the ultimate solution for energy efficiency. By automating when your window blinds activate, you can enjoy increased energy savings and improved privacy more accessible than ever before. Control the amount of sunlight that enters your home with just the click of a button.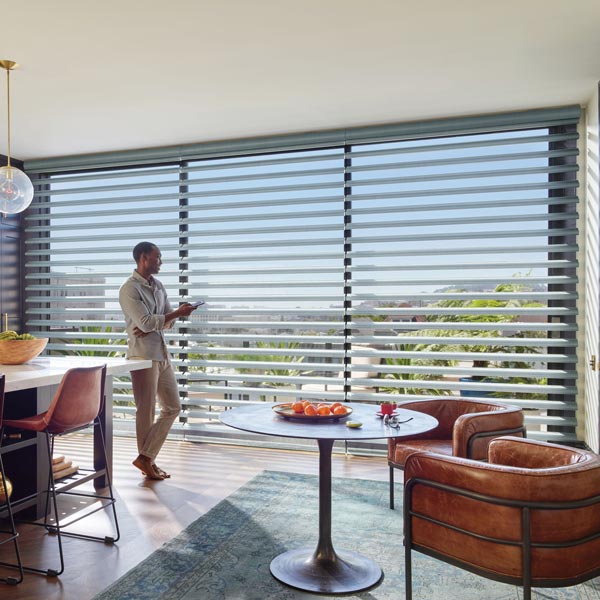 The Advantages of Smart Window Treatments
Automated window blinds offer convenience and ease, especially for windows that are hard to reach. Not only do our smart blinds enhance your home's style, but they also control light and temperature to provide you with the perfect amount of comfort. Automated blinds make a great addition to any home. Because they're compatible with the latest smart home systems, your smart blinds can work with your HVAC system to adjust the blinds according to the temperature in your home.
Motorized
Convenient control
Remote activation
Schedule in advance
Cord-free operation
Increased energy efficiency
Customized UV protection
Improved home security
Pet and child safety
Increased home value
Smart home integrations
Wake up to natural lighting
Install Cutting-Edge Technology in Your Home
Our automated motorized features add innovation to your home system and are compatible with the latest smart home technology. Smart blinds offer the ultimate solution to energy efficiency. Reduce your carbon footprint and energy bills by installing automated window coverings in your home. These modern window treatments will enhance both the look and functionality of your windows. Our motorized window treatments can connect to a phone, remote control, or wall switch for your convenience. We'll customize your window treatment installation to meet your needs and preferences. Contact us to learn more about our advanced window shade technology with a free consultation.